How about a little challenge? Last week I asked my Quiltsy team members for ideas for future posts. Kathy Kinsella came up with the idea of a challenge for National Quilting Day. Great idea right?
Ok here are the particulars if you would like to join in, and I hope you do!
1. Make a quilted item measuring 12"x12" or larger using the colors purple, yellow and green. Think Spring or Halloween! Oh, and just to make it interesting you must include at least one circle in your design.
2. Quilt should be finished and shared with us on the WIPs post on Wed. March 12th.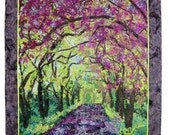 Quilt by Sally Manke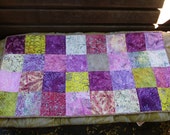 Table Runner by Nanny Grans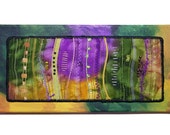 Quilt by The Butterfly Quilter
Be creative and have fun! While the ideas for the challenge are floating around in you head maybe you'd like to share what you've been working on this week!