Lindsay is in in charge of our team Pinterest page and her shop is LulubelleQuilts. She is an active member of our team and a pleasure to work with! I really enjoy her tales of like on her farm! Here is my interview with her:
Your name: Lindsay McKinley
Where do you live: Wadmalaw Island, SC
Family: Patrick (husband) Tallulah Belle (bulldog and who I named my shop after) Norbert, Loretta, Karma, Reba and Momma Cat (my kitties) Ouli and Milton (my rabbits) Bam Bam (my mini zebu bull) Annabel Lee and Edgar (my potpelly pigs) and 80 some odd chickens who are lead by my very handsome Roosters - Dexter, Bobbie Bobbin, Romeo and RuPaul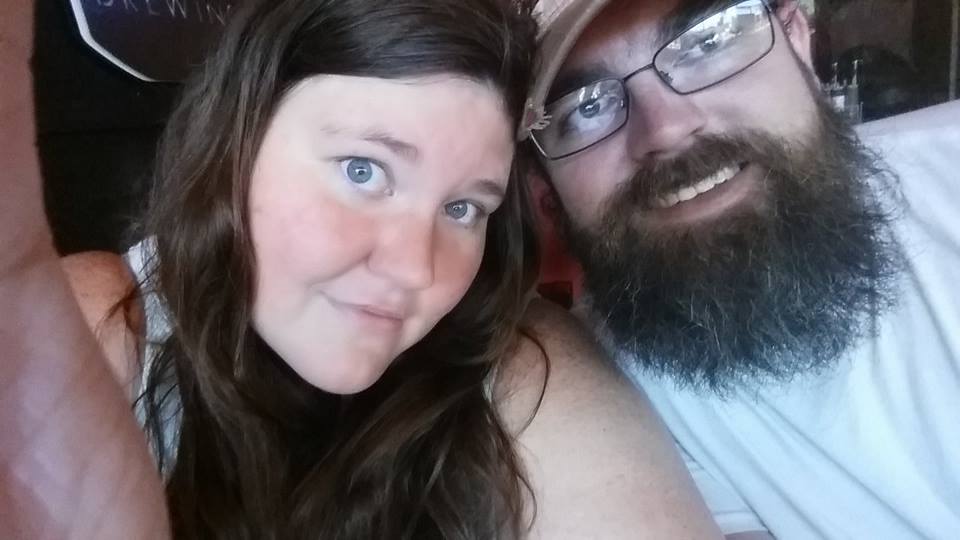 How long have you been quilting: I made my first quilt in 2006, but have been quilting full time since 2012
How long on Etsy: Since April 2012
What is your favorite technique: I love patchwork. It's what I think of when I think of a quilt. My absolutely favorite quilt that I own was originally made by my Great Great Aunt. She made the quilt top out of old curtains and my Great Great Great Grandfather's shirts and feedsacks and whatever other fabric they had laying around. Its perfectly patchy. My great grandmother discovered the quilt top, along with several others, at the bottom of an old cedar chest. My Aunt took it and quilted it on her Long Arm and gave it to me as a Christmas gift back before I started quilting. I treasure it.
Who taught you to quilt: My mom, my aunts and my grandmother are all amazing seamstresses. My mom used to make all our Easter dresses so I've always been around sewing machines but I never had any interest in making clothing. When I showed interest in quilting my Aunt Nean really took me under her wing and showed me the ropes. I was fascinated by her long arm and just the whole process. When I decided this was going to be my sole means of supporting myself everyone had nothing but good things to say. I kind of dove into unknown waters and was so lucky to have their guidance and a safety net of people there that really believed in what I was doing.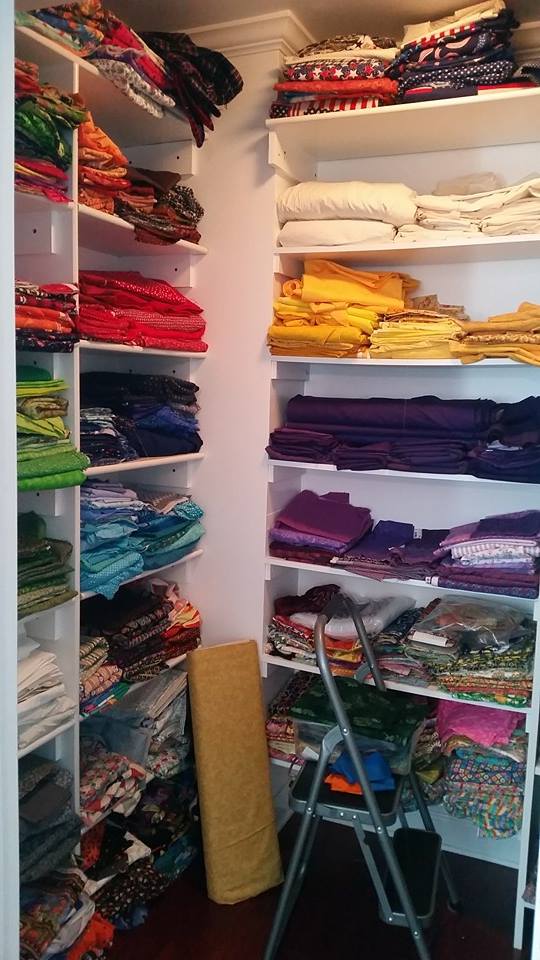 Lindsay's Stash!
Do you belong to any guilds: Not Right now. Etsy, our Quiltsy team and daily farm life keep me pretty busy. Maybe one day when things slow down. (Does that really ever happen?)
Anything else? Quilting kind of came to me by chance. In college I would go to music festivals with all the other hippie chicks and hula hoop and dance barefoot to jam bands for days at a time. I absolutely loved the traditional patchwork spinner skirts many of the girls wear. Instead of buying t-shirts or sweatshirts from the festivals I always tried to buy the handmade patchwork skirts from the artisans at the shows. That kind of sparked my interest in handmade and in patchwork. The idea of getting to support yourself using your own creative talents was really appealing to me. Since making clothes seemed like such a daunting task I turned my attention to patchwork quilts. At first I quilted as a hobby. Making quilts for my girlfriends that had started having babies. It was several years and a few major life changes later, but eventually that little seed of inspiration became my shop.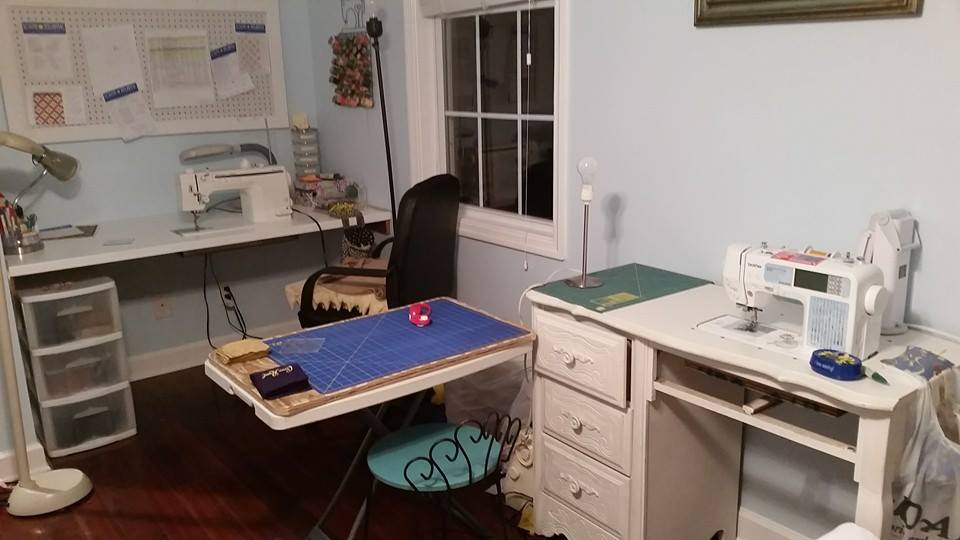 Lindsay's studio!
Social Media Links:
Facebook
Farm Facebook Page
Pinterest
I hope you will take a few minutes and check out
Lindsay's shop
!
As Captain of the Quiltsy team on Etsy it is my pleasure to occasionally feature one of my team-mates. This is a lovely group of talented quilters who make a variety of quality quilted and sewn items for sale. I have sold my own quilts in my shop, Pamelaquilts, for almost 9 years now and enjoy quilting and pattern designing. I have been sewing all my life, thanks to my mom, and fell in love with the art of quilting over 25 years ago. I have worked hard at learning the art of quilting and have mastered many techniques, from the time honored skill of fine hand quilting to the modern methods using quick piecing and machine quilting.